Vannguard is a business committed to Quality, Service, and Integrity. Since 2000 every business decision has been based on this brand. This brand is what our customers have come to expect.
Randy Bern and Casey Vann founded Vannguard in March of 2000. The two partners started with 4 employees locating for a gas and electric utility in Des Moines, Iowa. Soon the young business expanded into Wisconsin, and over the next 5 years grew to 60 employees with a focus on gas and electric utilities.
2005 was a transition year where Randy purchased Casey's shares of the business. However, the focus never changed from quality, service, and integrity.
Over the next 3 years, Vannguard grew into North and South Dakota as well as Minnesota. With these new gas and electric customers, the thriving company was now 125 strong.
2010 was another growth year to 180 employees with additional expansions into Minnesota and Wisconsin.
In 2017, we were offered the opportunity to locate in Colorado, specifically in and around the Denver metro area. Vannguard was now 235 employees strong with more opportunities on the horizon.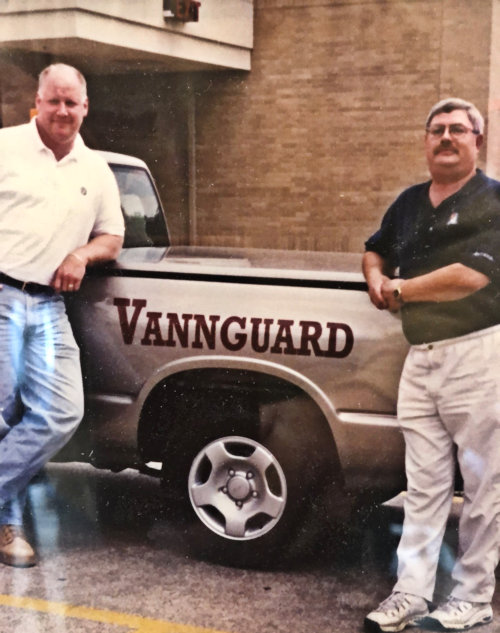 Randy Bern and Casey Vann
Vannguard Founders
In 2018 and so far in 2019, the growth has continued. All states have seen increased growth from either existing customers or with the addition of new ones. Vannguard now has 450 employees with our sights on additional growth for years to come.
Every time Vannguard grows, opportunities for advancement are created. Most management positions have come from internal employees that have advanced in the Vannguard system of Quality, Service, and Integrity.
The greatest asset Vannguard has is our employees because they have made all the growth and opportunities possible.
Our customers hire and keep us because we strive for Quality and they expect us to provide great Service while performing this with Integrity.  That will NEVER change.